Popular Posts
All Time
Kilimanjaro: A physical and emotional achievement!

Fabulous bananas!

Lactic acid and muscle stiffness

Water, source of life; Do you drink enough?

Simple tips to prevent aching while I'm heading to the Killimanjaro bringing my magic hands along ;)

FOCUS! Make the most out of your training!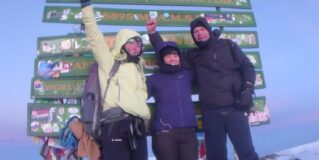 I made it to the top!! Of course, in my head, it wasn't an option to not succeed, but the last part turned out to be much harder than I thought. It was a seven day journey, five days to ascend and two days going down. The first four days felt like a piece of cake, no altitude symptoms bothered me whatsoever and physically I was feeling so strong and energized by this whole adventure. As we rose to the summit we saw many different landscapes, all respectively attached with their unique astonishing beauty. The sun was mostly bright and shiny in the day, getting stronger as we rose, sometimes hidden by clouds which we had to find our way through. On the fifth day we had to get up at 11:30pm and start the ultimate climb to the top at midnight so we would reach the highest summit in Africa as the sun shows its first rays. I was feeling slightly weak because of a small insolation on that last day of climb, the sun being so strong… I thought: "Really?… What a timing!" as we were just about to face the most important part of our journey. So...